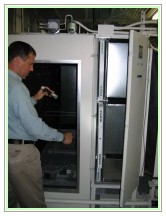 Mr. McGrail is a career Industrial Hygienist with more than 21 years of environmental, safety and health (ES&H) experience. He provides technical direction on environmental health, safety, and industrial hygiene projects for residential, public and commercial clients, and personally conducts or supervises much of the on-site work. He provides management support on large programs and supported contracts requiring the efforts of multi-disciplined teams of professionals for government, public sector and military clients.
He provides sampling and analytical support, data interpretation, subject matter expertise, and recommendations for mitigating hazards on issues related to indoor air quality, microbial contamination, drinking water quality and asbestos management programs. He provides ongoing ES&H consulting and expert advice to commercial building owners and property management firms, schools, hospitals, government and military clients and those in the construction industries to ensure compliance with OSHA, EPA, and other federal, state and local regulations and corporate standards.
He is skilled in performing industrial hygiene evaluations that include the recognition, evaluation and control of workplace hazards. Evaluation areas include chemical exposures, asbestos and lead, noise, non-ionizing radiation, Indoor Air Quality, bloodborne pathogens, ergonomics, and others. He develops sampling strategies, performs sampling using direct-reading instrumentation and analytical sampling methods, evaluates results and provides recommendations for improved or additional engineering controls, personal protective equipment, or administrative controls to ensure worker safety and the safety of the surrounding environment.
He provides extensive project management of asbestos, lead, radon, and IAQ testing and remediation design tasks in public, private, government, hospital and commercial buildings. His capabilities include the preparation of specifications, bid documents, cost analyses, and contractor selection for large-scale abatement projects.
He instructs safety and awareness training including Hazard Communications, Respiratory Protection, Confined Space Entry, Bloodborne Pathogens, Asbestos, Personal Protective Equipment, Control of Hazardous Energy (Lockout/Tagout) and Electrical Safety, Fall Protection, Ladders and Scaffolds, Hot Work, Sleep Deprivation and Shift Safety, Pesticide Application, and other related safety topics.
He is currently pursuing accreditation as a Certified Industrial Hygienist from the American Board of Industrial Hygiene.